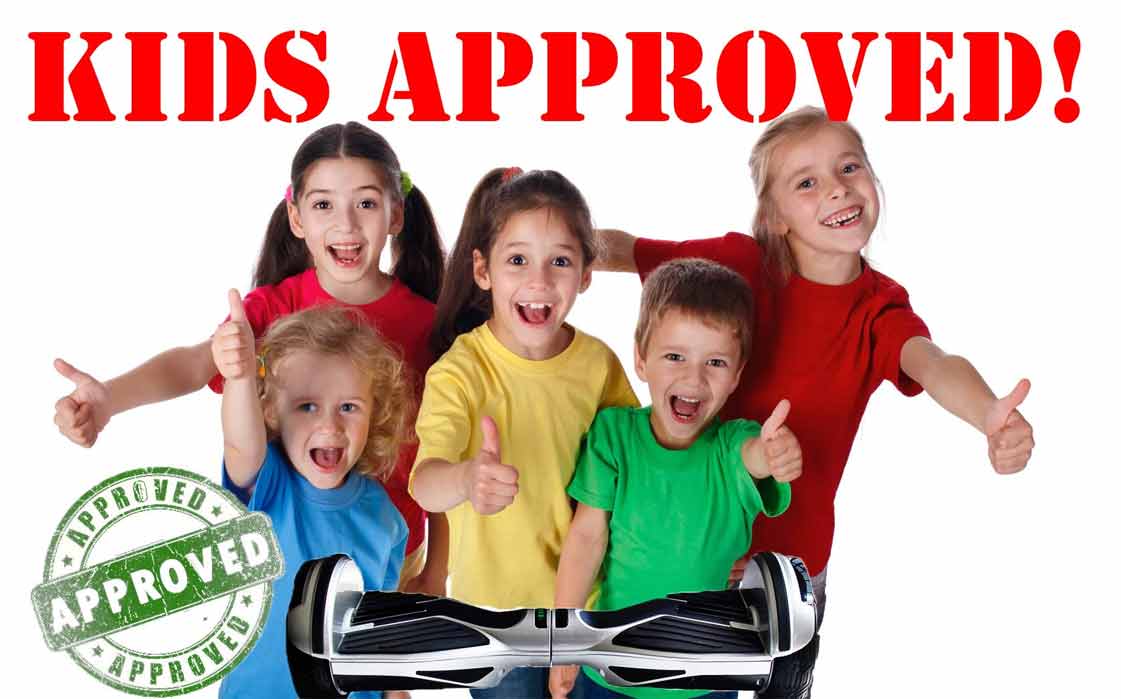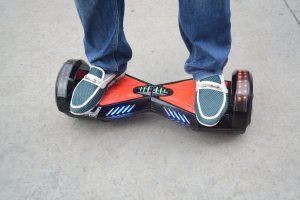 Looking for a hoverboard for your kids?
As a parent myself, I know that our kid's safety always comes first. Hence, I have gone through the available models and picked out the hoverboards that best cater to kids out of a safety perspective.
All the models that you can find in our top-list over hoverboard for kids have all been approved by the new UL 2272 certificate specifically made for hoverboards and other electric transportation vehicles.
In order to assure you this is a somewhat impartial review, we try to be as transparent as possible with us being a hoverboard brand in Sweden. You can visit our hoverboard store here, which is the only one passing the UL 2272 in Sweden. We also hope this assures you that we have the knowledge needed to help find you that perfect hoverboard gift for your kid.
With that said let's jump straight to the head to head comparison below.

The best kids approved hoverboards list
Last updated on January 18, 2019 7:53 pm
These are the most appreciated hoverboards among both kids and teenagers and they have all received highly rated reviews by former customers. Kids often talk to each other and if one of their friends has a specific hoverboard model there is a good chance that your kid wants the exact same one. But that one might not be a good fit depending on your kids skill-level and age. In order to help you find exactly what would suit your kid the best keep on reading through our reviews below.
Kids hoverboards we reviewed
Segway MiniLite
1 new from $259.00

Free shipping
in stock
Last update was on: January 18, 2019 7:53 pm
√ UL2272 Certified & Approved by CPSC---Guaranteed quality and safety
√ Unique Tires-The updated tires have 4 different lights which can switch randomly
√ Colorful Lights---here are 5 different LED lights switching back and forth according to the music played via Bluetooth
√ Strictest Production Process---Full-inspection system, hundreds of thousands of tests regarding to safety regulations
※ Get Free Hoverboad Bag---Just contact seller When you received the hoverboard
The new Segway MiniLite is here. Like a Segway MiniPro but cheaper and child-friendly. A premium hoverboard experience that works perfectly for both kids and adults.
A review of the product has just been done and it works flawlessly. You can check the raving reviews by former customers here.
Here you turn with your knees instead of twisting the middle of the hoverboard. So what do we get with the MiniLite?
You get something out of the ordinary. A safe, powerful and feature-packed hoverboard for a great price. The quality can be assumed just by hearing the name Segway who have been in this business the longest, constantly pushing limits and creating new models.
Tomoloo hoverboards
2 new from $149.99

in stock
Last update was on: January 18, 2019 7:53 pm
DESIGNED IN DENVER: Lunar LED lights, cosmic colors, made of high-quality hover skate board materials.
ELECTRICAL SAFETY CERTIFIED: Electrical, battery, and charging systems are UL 2272 tested and certified.
TOP-RANKING TORQUE: Enjoy balance scooter speeds of up to 7.4 mph with powerful dual 250W motors.
BECOME A MASTER FASTER: Quick and easy hoverboard learning with simple one-touch operation.
COSMIC FUN RIDE: Explore the galaxy for up to 12 miles on your 2 wheel self-balancing scooter.
Tomoloo has a bunch of new models and is launching new popular units at a steady pace. They've grown fast and that is probably thanks to their unique design and functions. And of course, having a large stock of different models and putting their prices at a point where customers feel that they get their money's worth has probably helped a lot.
They have a hoverboard for every child's needs and below you can see how they look. If you're interested in checking these high-quality boards out you can find them on Amazon or read our full Tomoloo review where we compare the different models to each other.
Surfus Junior 4.5″ – A solid choice for toddlers and young children
1 new from $119.99

in stock
Last update was on: January 18, 2019 7:53 pm
4.5 Inch wheels hoverboard for kids only, Max weight 120 LB. (No Bluetooth Speaker)
High intensity LED headlights provide you safer ride at night, now you can ride it to anywhere at any time.
The Self balancing technology of the hoverboard makes it easier and safer for beginners and amateurs. It is easy to learn and maintain balance let you master the art of balancing in minutes.
The UL certified hoverboard meets UL2272 standards for quality charging and electrical performance. Charger included.
If you're looking to buy a hoverboard for the very young and inexperienced riders then the Surfus HR Junior is a great choice for you.
It has 4.5" wheels making it closer to the ground so the young ones have an easier time mounting/dismounting. This also helps with feelings of insecurity as well as being closer to the ground helps them bail in time without any unnecessary injuries.
The unit is UL approved and is therefore as safe as an electrically powered toy can be.
They can cruise at speeds up to 3.1 mph and at that speed, you can get around 6 miles on a single charge. It should be able to accommodate your youngest with a fun 2+ hours of riding without problems. The design is well thought out with large sides to stand on and they both are equipped with non-skid footpads in order to provide your kid with a good foot grip while they carve.
It has a bright blue headlight for night time and the battery indicator can be easily read while riding as well as for someone on the side. When the battery gets under 10% the unit starts to beep indicating that it is time to plug in the charger.
A solid choice for parents with kids around 3 to 6 years where a normal hoverboard might give them too much power underneath their feets. Let your heart take a rest while Surface HR Junior provides your kids with a fun and safe hoverboard ride, just like the older kids.
EpikGo Sport/off-road
1 new from $119.00

in stock
Last update was on: January 18, 2019 7:53 pm
NEW HOVER BOARD: Made with Anti-fire Material
HOVERBOARD PATINETAS ELECTRICAS FEATURES: Electronic Based Hoverboard, Very sturdy- Supporting up to 143 lbs. Minimum: 44 lbs, Impeccable Speed Controlled by Rider, Equipped with a battery, Front LED Lights, you can hit max speed of up to 6 MPH and Range: 3-6 Miles (Depend on road condition & User Weight)
SAFETY CERTIFICATION: UL Certificated Hoverboard- Safe and Stable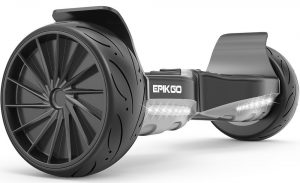 The Sports edition from EpikGo blew my mind and with unique design, the high top speed, durable frame and long distance you can almost never go wrong. Stronger motors of 400watt and a fast charging system of 2 hours let you ride tougher terrain, faster and farther.
The design is similar to the Halorover except for the set of wheels which has been specially produced in order to give the user higher torque and less resistance when riding on even surfaces. I love going off-road, but when I want to hit the streets the EpikGo sport is my first choice. A reliable hoverboard with optimized street performance and a really cool and stable design. I highly recommend it to any teenager who will be mostly be riding in the city and on even terrain.
The off-road version is just as fun. It can be used on most terrain with ease but if you have some dirt paths, gravel or perhaps even a dirt track near your home then the off-road version is definitely a must.  We have compared both the Sport and off-road version head to head and it really comes down to where you want to ride.
Both models come with a mobile application in which you can adjust torque, max speed and the sensitivity of the sensors. You can also keep track of your route, how far you've driven and how much battery juice you got left. They have a set of bright Led-lights both front and rear that makes you more visible to others around you while giving you a clear view of your surroundings.
Recommended to kids/teens age 8+.
Razor Hovertrax 2.0
2 new from $149.95

1 used from $140.23

in stock
Last update was on: January 18, 2019 7:53 pm
Max speed: 6mph; last about 45-75 mins
Battery Charge Time: 2-3 hours until fully charged
Max weight is 165lbs; minimum weight is 45lbs
UL 2272 Certified
Quick and easy hoverboard learning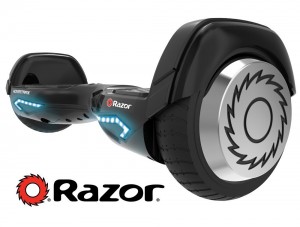 Razor is well known in the electric transportation/toys genre. We know what type of quality to expect when buying one of their products and as with most Razor products the Hovertrax 2.0 lives up to their standards too. Combined with their service minded support who have good knowledge about the product this makes for a great hoverboard for kids.
Razor has introduced a new technology called EverBalance which makes it super user-friendly. It basically means that even if you do not press the pressure pads it will stay in balance without tipping over. This makes it much easier for a kid to mount/dismount the hoverboard and you won't have to worry about scratches when dismounting. Therefore, it is one that we highly recommend to parents with younger kids who are looking for their first hoverboard.
Recommended for kids age 4-8.
If you want more information about the hovertrax 2.0 make sure to check out our full review.
Swagtron T580
1 new from $139.00

in stock
Last update was on: January 18, 2019 7:53 pm
New Fashion Chrome Color Skin
Top LED Flashing Light and Front LED Light, LED Light Up Flash Wheel
6.5'' Wheels with Charger Include
Lithium-Free UL Certificated Hoverboard safe and stable
Anti-fire Plastic Material Cover Whole Hoverboard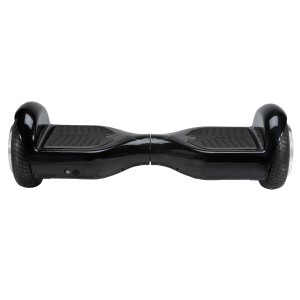 The most popular model from Swagtron right now is the Swagtron T580. It has a decent speed of 8 mph and a distance of around 11 miles on a single charge. What makes it so popular among the hoverboard community is the combination of low price and good specs.
The ride itself is smooth and it is very easy to learn, this is mostly thanks to the two different user modes you can choose between. They were the first ones to introduce a UL 2271 sentry shield battery into hoverboards and also the leaders with being the first ever UL 2272 certified hoverboard. This gave them a trusted fan base and loyal customers who know that they get what they pay for. Unfortunately, their customer support has lately been known to have its flaws and you should know this beforehand if you need support for any reason after you've made a purchase.
Recommended to kids/teens age 6-14.
Powerboard by hoverboard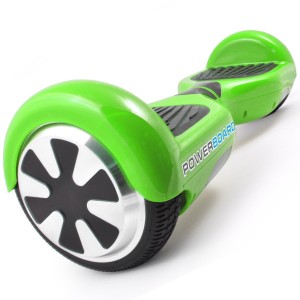 Powerboard has the basic hoverboard design, but that isn't really a con due to the fact that functionality of those first designs was absolutely perfect. The design makes it roll over without damaging the internal system which is a good thing when you are thinking about giving it to a kid.
The plastic is made out of really high-quality PE and it will withstand the heavy use from kids without any problems. They've gone a long way in order to get their board back on the market with a UL certificate. Solid design and shock proof make it an excellent choice for the younger audience.
Recommended for kids age 4-8.
You can read more about the powerboard here.
Swagtron t5
out of stock
Last update was on: January 18, 2019 7:53 pm
PERFORMANCE - 6.5" Vacuum Tire hitting speeds of up to 6 MPH for up to 7.5 miles powered by dual 250W motors
SAFETY - UL 2272 Certified meaning that this product has been tested for electrical and fire-safety to protect you and your loved ones
DESIGN - The futuristic LED accent lighting on wheels, front, and rear of the unit with strong shell and sturdy structure to help with ease of balance and reach top speeds.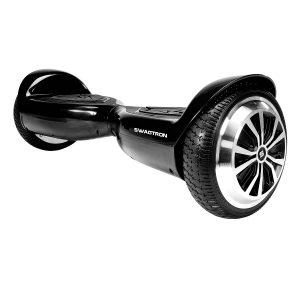 The Swagtron t5 is an entry level beginner friendly hoverboard. Its small size makes it easy to carry, even for its youngest users. Even though the T5 doesn't have the same specs as the T1 or T3 it might be a good fit for beginners providing everything in moderation. It is an affordable option at around 50$ less than the Swagtron T1 which is one of the most popular models. It has all the safety measurements and features that you might look for in a beginner board but I'm afraid that older kids and teenagers might get bored with it pretty soon. With that in mind, we recommend it to the youngest of our audience where the lower speed might actually be a positive thing. For more advanced users however, I do recommend the T1.
Recommended for kids age 4-8.
How your kid benefits from a hoverboard
While most new kid toys these days come in the form of a small plastic box with a touch-screen, a hoverboard lets them enjoy the outdoors for once. The use of a hoverboard are endless and here are but a few of the benefits of owning one.
Getting some fresh air. You get them to leave the screen for a while and go enjoy the fresh outdoor air.
Safety. Today hoverboards are just as safe as any other electric product your kids use, if not safer.
Getting back and forth to school has never been as fun and easy.
Indoors and outdoors use. They can be used both indoors and outdoors.
Versatile transportation. Some models can be used on various terrain, hence they can take it with them on various family activities.
Entertainment for the whole family. The whole family can actually use the same model. Even though we recommend a model for kids, that doesn't mean that parents can't enjoy it too.
Extending their freedom. Just like when you learned how to ride a bike or when you got your driver's license.
Kind to the environment. It helps reduce the emission of co2 by reducing you and your Childs carbon footprint.
Easy to learn. My personal experience from learning kids how to ride is that it takes about 30 minutes to an hour before they are comfortable enough to hit the pavement.
Everyone can learn. My boys learned how to ride a hoverboard at 3 and 4 years old. Now at age 4 and 5, they roam the yard freely, at low speed of course.
Pointers to buying a hoverboard for your kid
Looking to find the perfect hoverboard gift for your kids? All kids are different and no matter what age they are they do all have different learning curves. Some might learn how to ride a hoverboard in an hour and be very good at it. And some may need a bit more time before getting comfortable enough to go outdoors to ride, it all depends on the initial skill level. There are some things you should ask yourself before making the final choice of which model might fit their needs the best.
Consider their age. All kids are different and younger ones might need a bit more time to adapt to how a hoverboard operate. A comfortable ride comes when they finally learn to trust the hoverboard and relax their body.
Weight limit. For kids, the maximum weight is rarely a problem. There is, however, a minimum weight recommendation of 30lbs for 6.5" and 8.5", and about 40lbs for the 10" with pneumatic tires.
Safe usage. Be sure that you put safety first. There are cheaper alternatives out there without the UL 2272, these are considered much more unsafe than the fireproof UL 2272 models.
Make sure the hoverboard you are looking at has the appropriate safety features such as the option to change user level settings. Bluetooth is good if you think might want to listen to music while riding. Using headphones is not a recommendation, you do not hear the beep when over-speeding. Something I learned the hard way.
What size to choose? The size you should choose often boils down to personal preference. 6.5" has hard rubber tires and are more for toying around, while 8.5 and 10" provides a little suspension for a more comfortable ride, and they work better on uneven terrain.
Last words
For our youngest readers, we recommend Razor's Hovertrax 2.0. Thanks to the moderate speed, distance and the Ever balanced technology it pleases most kids hoverboard needs. It also has some great safety functions making it an even better choice. One of the less expensive hoverboards around.
For kids/teenagers 8 years and up we like the EpikGo sport or off-road version as it is a highly versatile hoverboard. The off-road model can be used nearly anywhere and both can climb inclines of up to 18 degrees so you can literally go anywhere.
After reading through our guide on what's important when looking at hoverboards for kids I hope that you now feel adequate enough to make a solid and safe choice that will bring you and your kid's joy for years to come.