Welcome to HFS, your source for all things hoverboard related. In order to give you detailed information on which hoverboard might be your best buy, we've done some extensive testing with our hoverboard reviews and arranged them from the best hoverboard to the "worst".
Hoverboards or self-balancing scooters as they've been called are a self-balancing environment-friendly transportation vehicle. They operate like a segway without a handlebar and there are a few key components in order to keep you up and running; 2 motors, 2 gyros, a mainboard, a battery, and of course a frame to mount it upon. Combined these are what keeps you in balance.
You want high-quality components, a trusted after-sales service, and in-house repairs. These days UL certified hoverboards are surfacing everywhere. These set the standard of a new era where safety is the highest priority, just how we like it.
Compare our recommendations head to head in order to find the best and safest hoverboard for you.
Best hoverboard – Top Comparison 2017
Why you should buy a hoverboard
I can come up with a million reasons to why a self-balancing scooter is a great buy. I literally take mine out to throw away the trash, that's how fun they are to ride. And with the new karts available they are getting even funnier.
You do get a bit lazy, so don't start to walk your dog while riding! Get some exercise on the side.
Still not convinced?
I will give you a few great reasons to why you should buy a hoverboard for your kids or for yourself as an adult.
Cost efficientThey run on batteries and you can often go 10+ miles without a problem on a single charge. Making the daily commute to the bus stop, office or school a blast and it doesn't drain much electricity to reload them. Some models even have the ability for easy battery exchange so you can get extra batteries in order to get zero downtime.
They do not require much maintenance, perhaps a battery change after 500-600 charges but that's probably it.
LightweightMost standard 6.5″ scooters weigh in at around 22lbs, with their light aluminum frame. Get a backpack suitable for the scooter and you can easily take it with you everywhere. Doesn't get more portable than that.
Versatile transportationToday there's even 5 different wheel sizes; 4.5″ (toddlers), 6.5″ (common), 8.5″ (off-road), and 10″ (Air tires). The two with the biggest wheels both work very well on even the most unforgiving terrain like grass, gravel, dirt, and even snow. In Sweden we get plenty of snow during the winter so I can assure you that the 8.5-inch and 10-inch hoverboards both can handle it, 10 inch is better for riding in snowy terrain, in my opinion.
Eco-friendly deviceThis is one of my favorite. Everyone might not do their best to help the environment, but doing so while having fun gives you an extra kick. There are a lot of pollution going on and if you can reduce your carbon footprint while still getting from point A to point B, in a much more enjoyable way, why not?
Easy to learnRiding a hoverboard might seem like a difficult thing to do at first glance.
The first time you try it, it might even feel difficult, but it really isn't. I can promise you that after 15 minutes you'll be riding pretty decent indoors. The main thing is to not get ahead of yourself when you approach the outdoor terrain. A few bumps can easily get you off balance when you're a beginner.
Hell, my grandma is 88-years old and she even got around by herself, after testing for 5 minutes she asked about speeding up.
Those are the most common reasons for getting a hoverboard and with the fact in hand that
Hoverboard Buyers Guide: What to think about when buying
When you first start to scratch on the surface it might seem like a difficult task finding the perfect hoverboard for your hovering needs. But it is actually quite simple.
The first thing you'd always want to do is to be clear about what it's going to be used for. Some hoverboards have great off-road riding capabilities like the Halo rover and some are perfectly optimized to give you the ride of your life while riding on flat even surfaces. A hoverboard could be a toy for kids, a great alternative transportation for adults wanting to lower their carbon footprint or just to be used as a means of transportation for various reasons.
Get to know the hoverboard rider within you and keep reading our buyers guide in order to help you find exactly what you should be looking for.
Which size should I buy?
In order to know which size you should choose, you have to understand what sets them apart.
Following is a short description of what pros and cons there is to each model.
4.5-inch
Not something you usually find these days, those were introduced back when the scooter first made its appearance and are mainly focused on smaller kids between the ages 3-6.
These aren't available right now but might come back in the near future.
6.5-inch
This model is the most common among the UL approved models and it's aimed at the masses. Main use are flat surfaces like streets and pavements.
Pros:
Light
Easy to mount/dismount
Indestructible tires
Sensitivity
Cons:
Lower ground clearance
Handles rough terrain badly
Hard rubber tires
8.5-inch
Was first introduced as two triangles put together. These days they are more common with off-road tires.
Pros:
Handles off-road and uneven surfaces including snow
Higher ground clearance than 6.5″
Light
App, remote, and speakers are common features
Indestructible wheels
Aluminum frame cover
Really good LED-light system
Cons:
10-inch
A bigger and heavier version with air-filled tires giving it some suspension which makes riding much smoother on most terrains.
Pros:
Air-filled tires
Great ground clearance
Bluetooth and remote control available
Great on terrains like dirt, gravel, grass, and snow
Cons:
Heavy (about 30lbs)
Flat tire
What makes a good hoverboard?
Getting a hoverboard with great components gives you a far superior riding experience. I am a big fan of TaoTao's mainboard and gyros, these are fantastic when it comes to durability, stability, functionality, and they can really take a beating.
Stability, distance and battery quality should be your main concerns. Speed is fun, but depending on what you intend to use it for that may vary. A good self-balancing scooter should be able to go about 10 miles, have a speed of 6-8 mph and some additional functions like; remote control or mobile app, and bright LED lights (preferably both front and rear lights, in different colors).
You won't find anything else than UL certified hoverboards amongst our reviews, due to the fact that these are known for their increased security and that they've already passed a hard test.
I must, however, say that the early issues with fire hazards are over and you can find decent hoverboards with Chinese branded battery cells which are still safe. The problem was mainly caused by the use of factories that had no clue to what they were doing manufacturing such a powerful battery.
A good choice among many
What is the best hoverboard for me are a frequently asked question?
This is something only you can decide. But we have made some great guides and reviews to help you find a scooter that fits your needs. If you are looking for the best of the best you should check out our top ranked hoverboard reviews.
One of our top selections is the Razor hovertrax which provides a good top speed, distance and at an affordable price. At top speeds of 10 mph and a driving distance of 12 miles, it beats most other prices. If you want a top of the line hoverboard, with great after-sales service and a great track-record, Hovertrax is the way to go.
Another good thing about the Hovertrax is that Razor who manufactures them are a reliable US brand which has been active within the category for years producing high-quality products and excellent customer experience. If you'd like to know more about the hovertrax you should Read the full razor hoverboard review.
Where to buy one
A fair question. There are many different places where you can buy hoverboards. We tend to recommend Amazon these days due to their safety precautions for hoverboard safety, all suppliers who wish to sell their product at Amazon needs to include a full 167-point UL certificate. They have by far the biggest selection of hoverboards to choose from and they offer an extended warranty that covers a lot of different scenarios. For more information check out the Square trade scooter warranty.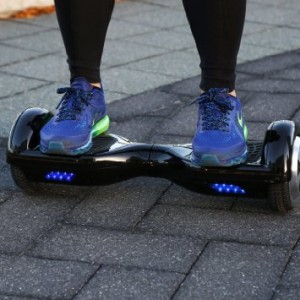 Quality wise
Starting out the quality of many hoverboards have tended to vary very much. However, that has been sorted out and today all of the hoverboards that we recommend and review holds a high-quality in terms of components and manufacturing. There are no battery issues anymore as they use cells from reliable manufacturers such as LG and all batteries have gone through hard testing in order to ensure that the high safety standards of today are met.
Cheap alternatives
Yes, you can probably get a hoverboard for under $200 if you start looking at places like aliexpress.com.  These aren't top of the line, nor do they hold as high quality. We have however combined a list of the cheapest hoverboards you can buy within the US in order to get good after-sales services and customer support. Read more on finding the cheapest hoverboard here.
What is the price range for hoverboards?
The cost varied heavily at the beginning but have since then settled and most hoverboards cost around 300-700 dollars depending on what type of features, size and specifications you are looking for. Design, specification, and features heavily determine what numbers you will see on the price tag.
How we test a hoverboard
We do extensive testing in order to assure you that all the hoverboards on this site are safe, easy to use and FUN to ride. There have been no faulty errors down the line and we do not only test them ourselves. We read and watch hours of video/text in order to find all these small errors that might not occur during our 5 hours of testing.
Every stone has to be turned and if there is a problem somewhere we are sure to find them in other customers reviews and videos. Then we compile these things into our own review just to give you a heads up if there have been any problems with the device you are looking at.
We are experts in the field of hoverboards. With over 2 years of being in this business, we've established our own brand and hoverboard store in Sweden, been voted the number one supplier back home, and tested over 50 different brands.
We hope that you will find a hoverboard that fulfills all your needs and more. If you have any questions regarding the subject feel free to contact us by using our contact form, the contact form can be found in the main menu.
Here is a video of us testing one of the hoverboards out on our dirt-course.